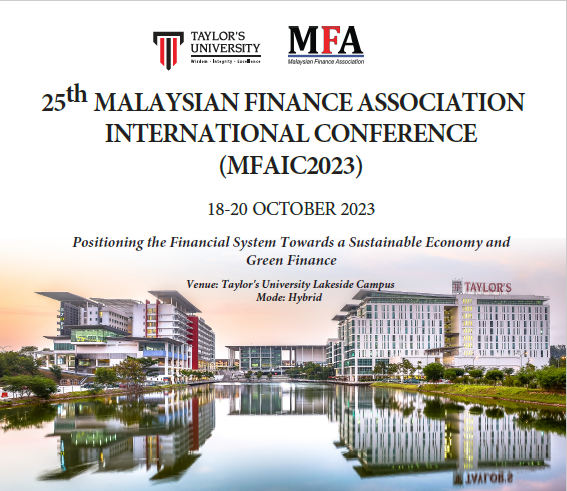 Registration and Submission Link:
http://submit.confbay.com/conf/mfac2023
Important Dates:
Full Paper submission Deadline: 01 July 2023
Extended Full Paper Submission: 20 August 2023
Acceptance Notification: 15 Aug 2023
Camera-ready Paper Deadline: 01 Sept 2023
Payment Deadline: 15 Sept 2023
Conference Scope:
-Green Finance
-Environmental, Social, and Governance (ESG)
-Climate Finance
-Circular Economy
-Fintech
-Law and Regulations
-Business Finance
-Financial inclusion
-Accounting & Auditing
-Behavioral Finance
-Corporate Finance
-Financial Economics
-Financial Institutions
-Islamic Finance
-International Finance
-Investment
-Real Estate Finance
(Note: Any non-finance topics but related to
finance industry are also welcome)
Publication Opportunities:
Finance Research Letters (Q1 ; IF: 9.846)
Journal of International Financial Markets, Institutions and Money (Q1 ; IF:
4.217)
Pacific-Basin Finance Journal (Q1 ; IF: 3.239)
Asian Academy of Management Journal of Accounting and Finance (Scopus)
International Journal of Economics and Management(Scopus)
Malaysian Journal of Economic Studies (Scopus)
Capital Markets Review (MyCite, ABDC)
International Journal of Banking and Finance (MyJurnal)
Best Paper Awards:
Three MFA best papers with an award of RM1,000 each.
>Two best paper awards sponsored by the International Journal of Banking and Finance with RM400 each.
>One best PhD Proposal Award of RM500.
Registration fees:
Local Participants:
MFA members: RM900
Non-MFA members: RM1000
Students: RM650
Non-presenters: RM650
PhD Colloquium Presenters: RM650
International Participants:
Normal fee: USD300
Students: USD200
Non-presenters: USD200
PhD Colloquium Presenters: USD200
Note: 20% discount for registration fees for all the above categories will be given to those who will attend and present their papers online.
Further details can be found in the conference website: https://MFAIC2023.taylors.edu.my