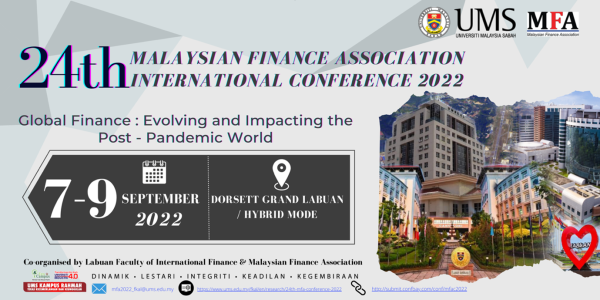 CALL FOR PAPERS
The 24th Malaysian Finance Association International Conference 2022
(MFAIC2022)
7th – 9th  September 2022
 Conference Theme
Global Finance: Evolving and Impacting the Post-Pandemic World
Conference Venue/ Platform
Dorsett Grand Labuan / Hybrid Mode
WELCOME
Welcome to the 24th Malaysian Finance Association International Conference 2022 (MFAIC2022) on Global Finance: Evolving and Impacting the Post-Pandemic World. Universiti Malaysia Sabah, Labuan International Campus is proud to be a host for this conference that will be organized on 07-09 September, 2022. We cordially offer a platform for researchers and practitioners to meet and exchange ideas and information, share their findings and analytical views on issues relevant to international business and finance, both in their general and specific contexts. All papers will be double blind-reviewed by a panel of established researchers.
AREAS OF INTEREST
The scientific and organizing committee welcome submissions in all areas of: Accounting and Auditing, Corporate Finance, Islamic Finance, Financial Economics, Financial Institutions, FinTech, International Finance, Investment, Behavioral Finance, and Real Estate Finance.
Sub-Themes
This conference invites papers on any of these major tracks but not limited to:
Accounting & Auditing
Behavioral Finance
Corporate Finance
Financial Economics
Financial Institutions
Fintech
Islamic Finance
International Finance
Investment
Real Estate Finance
PhD Colloquium
Open only to existing PhD candidates to present their full dissertation or proposal with preliminary results. Conceptual papers or proposals without any empirical findings will not be considered.
 Best Paper Awards
The Conference Organizer will confer e-Certificate for Best Paper Award to qualified paper(s) as recommended by the Review Committee.
Three (3) MFA Best Paper Awards (published in Capital Markets Review) with RM1,000 cash prize for each paper.
Three (3) IJBF Best Paper Awards (published in International Journal of Banking and Finance) with RM 400 cash prize for each paper.
Keynote Address
Prof Dr Iftekhar Hasan, Fordham University
Prof Dr Wing-Keung Wong, Asia University, Taiwan
 Plenary Sessions
Prof Dr Mohamed Ariff, Sunway University
Prof Dr Lean Hooi Hooi, University Sains Malaysia
Mr Nik Mohamed Din Nik Musa, Labuan FSA
 Publication Opportunities
Selected papers will be invited for further review and consideration for publication in the following refereed journals. Submission fees or/and publication fees may apply to some of these journals, to be followed up by the respective journal with the author after the conference:
1. Journal of Financial Stability (SSCI, SCOPUS)
2. Annals of Financial Economics (ESCI, SCOPUS)
3. Asian Academy of Management Journal of Accounting and Finance (ESCI, SCOPUS)
4. Asian Journal of Business and Accounting (ESCI, SCOPUS)
5. International Journal of Business and Society (ESCI, SCOPUS)
6. International Journal of Economics & Management (SCOPUS)
7. Journal of Risk and Financial Management (ESCI, SCOPUS, ABDC)
8. Malaysian Journal of Economic Studies (ESCI, SCOPUS)
9. Capital Market Reviews (MyCite, ABDC)
10. Labuan Bulletin of International Business and Finance (MyCite)
11. International Journal of Banking and Finance (MyJurnal)
12. Labuan e-Journal of Muamalat and Society (MyJurnal)
Registration & Paper Submission*
*Registration & Submission: *http://submit.confbay.com/conf/mfac2022
Registration payment is only via ConfBay system (credit card)
For submission to PhD Colloquium, please email directly to mahmudul.haque@ums.edu.my.
Important Dates
Full Paper Deadline: 30 June 2022
Acceptance Notification: 20 July 2022
Camera-ready Paper Deadline: 6th August 2022
Payment Deadline: 1 August 2022
Conference Fees
Local Participant:
Presenter (MFA Member) RM450
Presenter (Non-MFA Member) RM650
Presenter (Student) RM350
Participant RM350
International Participant:
Presenter & Non-Presenter USD250
Student USD150
 Contact
Official website          : https://www.ums.edu.my/fkal/en/research/24th-mfa-conference-2022
Email                           : mfa2022_fkal@ums.edu.my
Basic Submission Rules 
Format All content in one file, including title page, abstracts, JEL, keywords, text, tables, figures, references and appendix, if any.
Language: English 
Paper length: No limit 
Paper size: A4 with single spacing 
Font type: Times New Roman 
Font size: 10 point 
Figures & Tables: Included in the paper (please do not send separately) 
Margin: One inch margin around each side of the page 
File format: MS Word-compatible file (PDF file is not acceptable)
Articles which previously published, under consideration by another conference or journals, and with pre-existing copyright are advised not to be submitted for review and consideration.