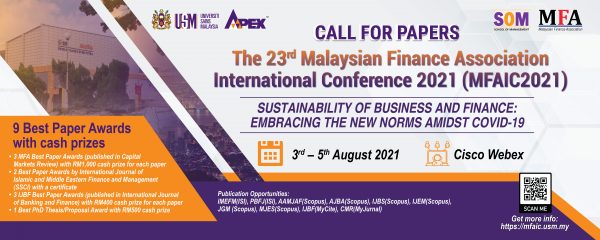 CALL FOR PAPERS
WELCOME
Universiti Sains Malaysia is proud to be the host for the 23rd Malaysian Finance Association International Conference (MFAIC) 2021. We cordially invite submission of research papers in all areas of finance, economics and accounting. The annual conference provides an open platform for scholars and practitioners particularly from the Asian region to meet and share their current research as well as to exchange ideas and information on new development in these areas.
AREAS OF INTEREST
The scientific and organizing committee welcome submissions in all areas of: Accounting and Auditing, Corporate Finance, Islamic Finance, Financial Economics, Financial Institutions, FinTech, International Finance, Investment, Behavioral Finance, and Real Estate Finance.
DOCTORAL COLLOQUIUM
Open only to existing PhD candidate to present their full dissertation or proposal with preliminary results. Purely conceptual stage is not acceptable.
KEYNOTE SPEAKER : Mohammad Kabir Hassan, University of New Orleans, USA
PLENARY SPEAKERS : 1) Ferdinand Gul, Deakin University, Australia; 2) Jonathan A. Batten, RMIT University,                                                                                  Australia; 3) Sofia Johan, Florida Atlantic University, USA  
BEST PAPER AWARDS:
3 MFA Best Paper Awards (will be published in Capital Markets Review) with RM1,000 cash prize for each paper
2 Best Paper Awards by International Journal of Islamic and Middle Eastern Finance and Management (SSCI) with a certificate
3 IJBF Best Paper Awards (will be published in International Journal of Banking and Finance) with RM400 cash prize for each paper
1 Best PhD Thesis/Proposal Award with RM500 cash prize
JOURNAL PUBLICATION OPPORTUNITIES:
International Journal of Islamic and Middle Eastern Finance and Management (ISI)
Pacific-Basin Finance Journal (ISI)
Asian Academy of Management Journal of Accounting and Finance (Scopus)
Asian Journal of Business and Accounting (Scopus)
International Journal of Business and Society (Scopus)
International Journal of Economics and Management (Scopus)
Journal of General Management (Scopus) – thematic call*
Malaysian Journal of Economic Studies (Scopus)
Capital Markets Review (MyJurnal)
International Journal of Banking and Finance (MyJurnal, MyCite)
Labuan Bulletin of International Business and Finance (LBIBF) (My Cite)
Labuan e-Journal of Muamalat and Society
*Thematic call for a complete or preliminary paper on FinTech, digitalization in banks & financial institutions, and finance & entrepreneurship that fit the scope of general management. Special presentation session will be arranged to get direct input from the Chief Editor Professor Eng.
Registration & Paper Submission*
Website: https://submit.confbay.com/conf/mfaic2021
For submission to Journal of General Management and PhD Colloquium, please submit separately to tams@usm.my
*Registration payment is only via ConfBay system (credit card)
IMPORTANT DATES: 
| | |
| --- | --- |
| Submission Deadline (dateline extended) | June 25th, 2021 |
| Notification of Acceptance (latest) | July 10th, 2021 |
| Registration and Payment Deadline | July 15th, 2021 |
| | |
CONFERENCE FEES: 
| | |
| --- | --- |
| Local Presenter: | |
| MFA member | RM200 |
| Non-member | RM500 |
| Postgraduate candidate* | RM150 |
| Participant (Non-Presenter) | RM150 |
*foreign student registered in Malaysian university is under this category.
| | |
| --- | --- |
| International Presenter: | |
| Presenter / participant | USD250 |
| Postgraduate candidate | USD150 |
| Participant (Non-Presenter) | USD150 |
CONTACT
Official website: https://mfaic.usm.my/
Email: mfaic@usm.my
Program Book is available for download >> https://mfaic.usm.my/component/phocadownload/category/2-2019?download=20:final-program-book
Updated on 30 June 2021 by G.J. Rangel