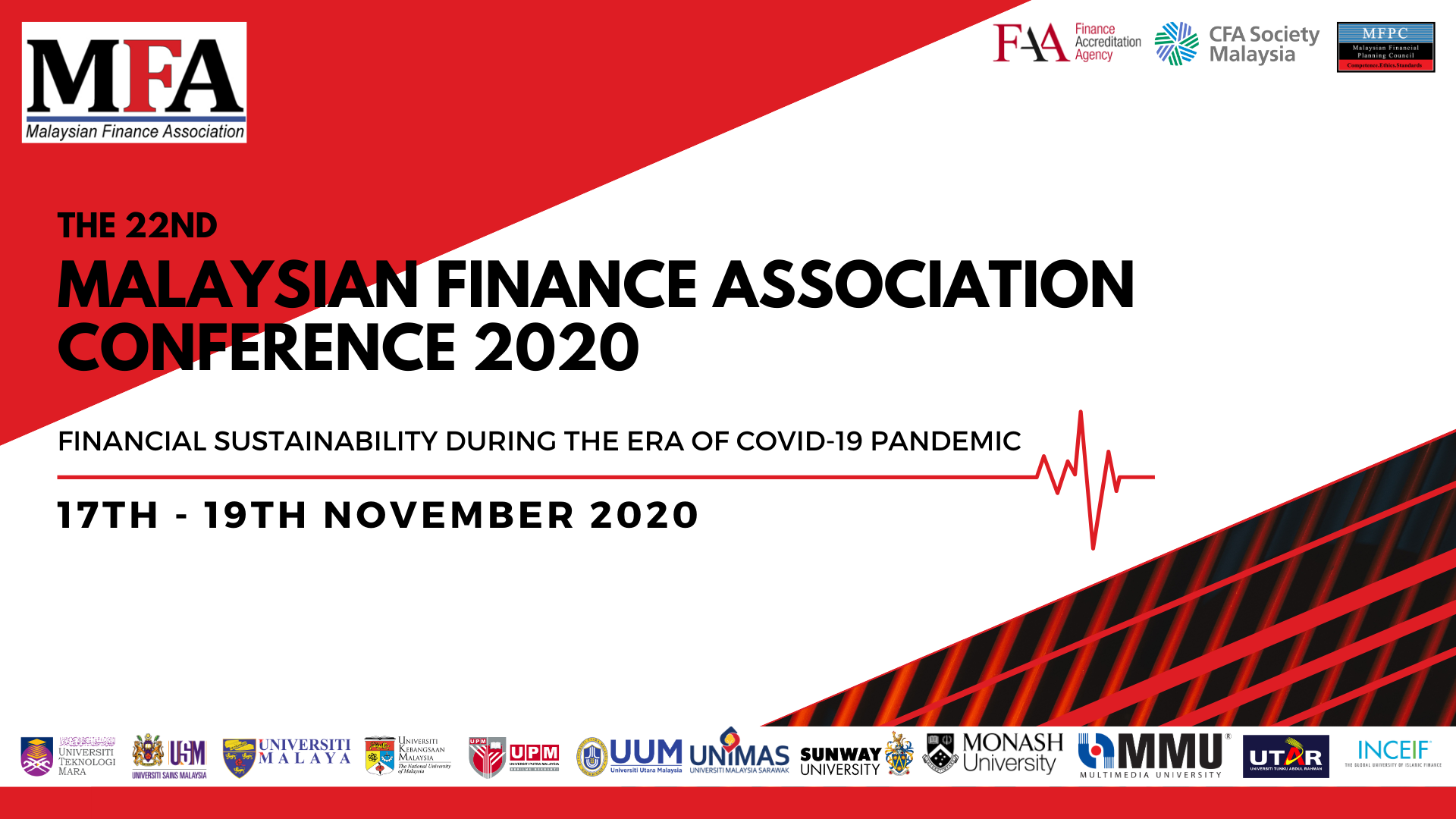 The Malaysian Finance Association is proud to be the host for the 22nd Malaysian Finance Association (MFAC) Conference 2020 during the current pandemic with a virtual conference. We cordially invite submission of research papers in all areas of finance, economics and accounting. The annual conference provides an open platform for scholars and practitioners particularly to meet and share their current research as well as to exchange ideas and information on new development in these areas. All papers will be double blind-reviewed by a panel of established researchers.
KEYNOTE SPEAKER:
Professor Robert F. Faff, University of Queensland.
CONFERENCE THEME: FINANCIAL SUSTAINABILITY DURING THE ERA OF COVID-19 PANDEMIC

BEST PAPER AWARDS:
3 MFA Best Paper Awards (published in Capital Markets Review) with RM 1,000 cash prize for each paper
1 Best Paper Award by Pacific-Basin Finance Journal (Special Issue) with USD$ 500
2 Best Paper Awards by CFA Society Malaysia (published in CFA Institute Asia-Pacific Research Exchange) with USD$ 250 each
JOURNAL PUBLICATION OPPORTUNITIES:
Pacific-Basin Finance Journal (ISI)
Asian Academy of Management Journal of Accounting and Finance (Scopus)
Asian Journal of Business and Accounting (Scopus)
International Journal of Business and Society (Scopus)
International Journal of Economics and Management (Scopus)
Malaysian Journal of Economic Studies (Scopus)
Capital Markets Review
International Journal of Banking and Finance>
IMPORTANT DATES: 
| | |
| --- | --- |
| Submission Deadline | 15/09/2020 |
| Decision Notification Deadline | 1/10/2020 |
| Registration and Payment Deadline | 15/10/2020 |
| Final Paper Submission | 15/10/2020 |
Registration Fees for Participants and Presenters : 
| | |
| --- | --- |
| International participants and presenters | USD100 |
| Malaysian participants and presenters | RM150 |
| MFA members | RM100 |
QUERIES:
Email: mgt@mfa.com.my
Updated on 5 June 2020 by Rangel G.J.